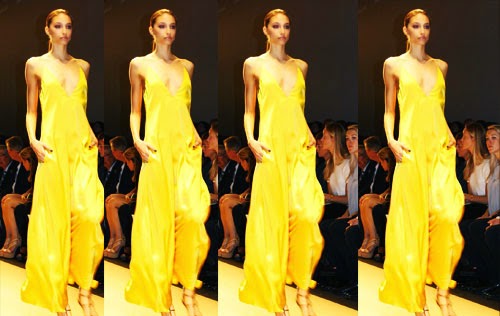 FASHION SHOWS
GUY LAROCHE SPRING-SUMMER 2015 PARIS FASHION WEEK
By
|
Style before Fashion.
  This is credo of the last collection of the famous house , Guy Laroche. This one was inspired by Claire Mc Cardell , the mid-20 th century American designer and master of luxury sportswear(!) By the way, designer of brand, Marcel Marongiu following the house trademark duality between male and female.
Designer mixed up light silk overalls is worn like tuxedo and bikini top. One more combination is mini-dress in raffia and pea coat. In additional, more lush yet discreetly experimental materials like scratched leather and large luminous plexiglass pieces make an appearance. All of these are so artisanal and futuristic but easy-to-wear.
Designer takes very bright and emotional colours of summer : navy, butter yellow, sky blue, blue-gray, eggshell and claret red. Silhouette is light , effortless and femininity. Marcel Marongiu created so modern and contemporary look.