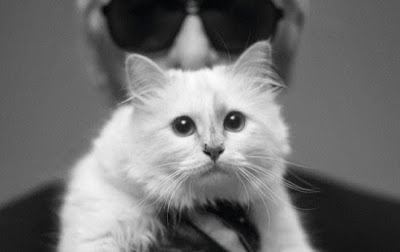 HUMOUR
WHO IS MONSTER CHOUPETTE?
By
|

Who is monster Choupette?
Chuopette, Miss Choupette,  Princess Choupette.
Whom does dedicate book about Fashion lifestyle?
Why the famous cosmetic brand Shu Uemura does issue limited edition collection for her?
She has private garden, french maid and personal vet.
Her twitter updates a news every day, her page on the facebook either.
Also she has opportunity to make a destroy on the table of Kaiser Karl!
Choupette—the constant feline companion of designer Karl Lagerfeld, creative director at Chanel—is a celebrity pet like no other. She has it all, from her own iPad to private jet service. She eats from Goyard silver seated next to Karl at the table, has been immortalized in Tokidoki figurines with the Kaiser, and has inspired his couture collections. "I never thought that I would fall in love like this with a cat," Mr. Lagerfeld said in a CNN interview. Choupette delivers words of wisdom to her 37,000+ Twitter devotees. At the book "Private life of high- flying Fashion cat" Choupette shares her complete lifestyle guide. Karl Lagerfeld's world-famous cat dispenses essential advice on lifestyle, diet, fashion, beauty, and international travel for the uber-fashionable feline.
Photographs taken by Karl himself include his Sacred Cat of Burma on fashion shoots with Laetitia Casta and Linda Evangelista. The book is completed with drawings, poetry, and photographs of literary cat-lovers including Ernest Hemingway, Truman Capote, Saul Steinberg, Dorothy Parker, and Edward Gorey. This season's most talked-about cat book is the perfect chic gift for cat lovers, the fashion-conscious, and style.
The white, fluffy Birman beauty has catapulted to fame more quickly, we're pretty sure, than any other cat in history (and even many humans for that matter) and we feel that her meteoric rise to stardom is worth a closer look.
P.S. Nevertheless, some words about Shu Uemura.
Shu Uemura conveys a uniquely Japanese sensitivity towards beauty. Attention to detail, and respect for nature. Strengthening the bond between art and beauty, developing the brand into a truly global brand; these are the origins of Mr. Shu Uemura's unwavering passion as a beauty innovator.