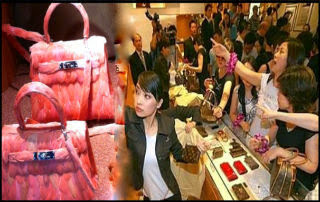 VIEWPOINT
Hard lux vs chinese buffet
By
|
Dress is cost £ 53 600. "Is it possible" ask me client? I reply affirmatively my words will be confirmed by British Vogue ( March 2014).
This is not Christy auction, that could be presented a lot with dress of Jackie O. or Marilyn Monroe or even Magde ( as Americans lovingly named Madonna). No, it's retail price of lace dress , brand: Givenchy. It wasn't made by Hubert Givenchy .This aspect could be justify the price. However, this frock was created recently by current creative director brand Ricardo Tisci.
Anecdotally, Balenciaga brand put the price £ 16 000 pounds for shorts! Exactly, it was made of woven leather , but unfortunately material is not used from skin of Tutankhamun or Jack the ripper.
Normally, if you come to any luxury retail you can see outfit that by average price £2000-3000. No person my customer is surprised seeing like that. Moreover, if dress value less £300 seems is a very suspicious provocation.
My clients always ask me same questions all the time: Who are customers of this high-level group of merchandise?Are citizens of what country can afford to pay by prices over allowable sense? Curiously, what factors affect the emergence of prices on the label? Why is luxury goods increasing in cost every year? Does the high prime cost of production as a whole influence on its formation , or vice versa? Why quality drops down in proportion as prices arise?
In fact, The Wall Street Journal reported in March that "the average price of luxury goods jumped 13 percent in 2013 while the USA consumer-price index rose only 1.5 percent. A Chanel quilted handbag is now $4,900, 70 % more expensive than the same item five years ago."
However, Chanel is not allocated. In August 2013, Reuters reported that "Hermès, the maker of €6,000 to €30,000 Birkin and Kelly bags, is hiking its prices after increases by its rivals such as LVMH's Louis Vuitton and Kering's Gucci earlier this year."
Although, personally, I count it is the desire of customers creates stock!
"Give it to me! Right now! " – Buyer's credit.
My words somehow confirmed by Erwan Rambourg in his book "The Bling Dynasty: Why the Reign of Chinese Luxury Shoppers Has Only Just Begun" "Ten years ago, half of Louis Vuitton sales in the world were made to Japanese consumers. And while I've heard often Tiffany Ma saying 'I can't buy Vuitton, I've seen it too much, it's a brand for secretaries', at the time it was factually true and not really an issue. The Japanese OL made Louis Vuitton a success; Chinese consumption is now compensating for the fact that she is not as dominant, has grown older and is not being replaced in Japanese society. One nationality has replaced the other".
Then, let's continue
What's concerning grade and quality of merchandise, I would prefer to remain silent but I have to say.
Generally , synthetic fabrics are used with small percentage of natural fibers.
Nevertheless, currently a mismatch and discrepancy between what is stated on the label and what is actually manufactured product. For example, in New York on the official sample sale that was situated directly on the famous 5th avenue I wanted to buy pants for my girlfriend. Prices for all items were divided into 2 categories: articles of common materials and products made of genuine leather. I was picking up the pants of eco-leather ( imitation of leather) thought that the price was in the first category. But, at the cashier desk showed me the label "100% leather", it certainly is not Givenchy , but quite expensive and fastest growing in the prices of brand Zadig & Voltaire.
More recently, as I was surprised of leather jacket provided by my lovely and well-known brand Helmut Lang line of less expensive 'Helmut' '(as sales person explained me) in the famous Parisian department store , Printemps. Looking more closely, you can easily find that it, too, is made of this wonderful eco-leather, which loses its shape and form , wipes pretty quickly. Well,it can not cost 900 euros!
In additional, I have experience on my own what to buy an item with forgery label the item description. It happened in the world-famous multi-brand store Barneys New York. I was the dupe of fiction when buying on the winter -65 % discount sale company handbag by Marc Jacobs for $ 600 before tax. Ostensibly made of genuine leather! But after a short period of use it became a clear that is not so..
Maybe it is not obviously from the fact that I am writing , but I advocate for eco skin but without the fake labels , with reasonable price as well!
I will not be sprayed on the prices of the alleged pythons and crocodiles, this is just ridiculously and absurdly. Leather bag ,model Birkin ,brand Hermes made from Himalayan crocodile costs $ 370 000 on the auction by famous Internet marketplace ebay. I highly recommend my clients before put on a bid on this lot thinking twice!
I said : " Your payment will be real however what's about crocodile?"
Here is one more story. I bought dress Emilio Pucci in Milan's boutique ,retail price- 900 euros. Shape and color of this are so sophisticated, not easy-going -to -wear. I decided to leave at the first out for exceptional event. Yes, it happened. Fashion show of John Galliano. I worn it with long coat, luckily. As soon as I got in the taxi back's seam ripped to waist!
Fortunately, that it occurred with me not with my clients. It will be my professional shame.
Sadly, that I can carry on this list infinitely.
Shoes from Jimmy Choo exist only for red carpet. La Perla holds a strong position in this sheet.
Definitely, nowadays Fashion reflect global economical situation. Quality of products is plummeting , manufacture transfers to China. At the same time volumes , costs and expenses are rising.
The main focus on the cover. Content is the second!
Large-scale and expensive advertising companies, Fashion shows, rent of big prestigious space , numerous helpless staff of boutiques are increasing expenses. At the same time every business has a target to reduce some of them.
Easy to pay of Kim Kardashian or Lady Gaga for wearing brand dress on some events than produce good quality merchandises.
Who is suffer from this politic of brands?
I can respond briefly. It's a customer. In additionaI, I remind that chinese production of "genuine skin" has leaped forward and confident, eco skin to the touch and appearance looks like a natural.
Adequately, chinese part of planet come to Paris, Milan, New York for shopping. Buy all at very high price. You can see every day a very long chain which stretches to the Chanel boutique in Parisian Gallerie Lafayette. The main customer in it is chinese young woman. Also, big group of chinese tourists any age around city center with packages from Louis Vuitton, Hermes and etc. They love faithfully French , Italian and American fashion. A quality control of purchases will be made by them of a certain number of years, but for now I don't think so. The Chinese are the world's biggest tourist spenders and increased their spending by 28 % in 2013, according to the World Tourism Organization. This underpins belief in "the growing purchasing power of Chinese consumers and their appetite for western luxury brands", Ms Huang Sun says. Chinese shoppers spent around 380 billion yuan ($61.13 billion) on luxury products worldwide last year, with spending outside China up 21 percent even as domestic sales of high-end brands dipped for the first time due to a government clampdown on excessive gift-giving, according to a report from consultancy Bain & Co. Tiffany & Co, Macy's Inc, Prada SpA and Christian Dior SA have made moves to woo Chinese shoppers, who spend far more on luxury brands abroad than at home due to greater variety, lower prices and favorable foreign exchange rates. Top destinations include South Korea, Japan, Britain, France, Italy, Germany and the United States, a 2014 report from the World Tourism Cities Federation shows.
Last but not a least, seems for them Ricardo Tisci made this dress!Recently I saw young chinese woman dressed total look in Givenchy on the Rue Saint-Honoré in the centre of Paris with packages from this brand in her hands. It's one more proof, isn't it?
Finally , I need to say that price of Givenchy could not promise quality to the Chinese woman.