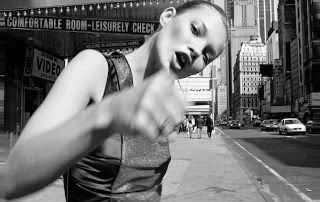 BEAU MONDE
Kate Moss "I am not a Fashion freak!"
By
|
KATE MOSS "I AM NOT A FASHION FREAK!"

Kate Moss turn to 41.

    Nowadays, she is the most famous British model,designer for clothing brand Topshop and stylist for British Vogue.
     Either she is blamed in anorexia , opening fashion in 1990s on heroine chic. Social smoking and alkoholism also imputable to Kate.  There are trail of stars, the downside of fame.. 
     She began her career  in 14 and became popular after posing nude for Calvin Klein ads in 1993. "For me, Kate's body represented closing the door on the excessiveness of the '80s," Klein said. "So many women models would come to me where they've distorted their bodies by implants in their breasts, changing their hips, changing their knees . . . I mean, you just cannot imagine what models were doing to themselves, what women have been doing to themselves. I think something changed dramatically in the '90s. And I was looking for someone who could represent something that's more natural." She remembered about that time: "I'd go on the train to castings, changing from my school uniform on the train. I carried on like that for a few years, getting jobs in bits and pieces".  John Galliano cast a very young, very unknown Kate Moss in his spring/summer 1990 show, moreover Galliano chose Kate to open the show. "We were looking for new girls," Galliano said, "and wow — I'd found my rough little diamond." Later , her carrer came up rapidly. Plein of catwalks, numerous covers of fashion magazines, contracts with fashion brands. 
Her naked portrait painted by Lucian Freud was sold for 3.9 million pounds (US$7.2 million) by Christie's in London. 
     
     Nothing pleasant  for Kate happened in 2005 , her working partners H & M, Burberry, H Stern and Chanel fired her from her contract due to a drug scandal as she was caught on camera doing cocaine. On the other hand ,  her salary somehow doubled after being caught on camera — and she's one of the few models who can still land magazine covers, which are now typically reserved for Hollywood actresses. "Everyone's a celebrity. But I'm kind of a celebrity now, so even though I'm not an actress, people know my name. I'm not just a face," she told the Women's Wear Daily magazine.
      Anyway, she is human and simply woman. She is love her 12- old daughter and her dog Archie. She likes to drive a classic model 911S , Porsche and put on Chanel No 5 after she has had bath or before bed. She is amateur of Louboutins -the classic black Pigalle stiletto in patent or matt black leather is her go-to shoe. She has so many pairs that Cristian designed a style with a sharper toe and nail-thin heel , which he named the So Kate. Her handbags are arranged by: black vintage, black daytime, black evening, Chanel, colourful daytime and, lastly, simple clutches.. She explicated: "I usually carry a classic Louis Vuitton bowling bag". Sunglasses are for playing her dress-up. She collects anything from the original Ray-Ban shape though to Seventies Aviators or Eighties mask shades. "I have lost a lot of clothes over the years … Probably the oldest garment that I still have would be my Union Jack jacket from John Galliano's spring/summer – 1993 show" Kate regrets to British Vogue. 
    Also Kate can't not get rid of the fear of paparazzi..That is one of disadvantages of star life. However, in general, nothing disturb her watch the American reality TV programme "Dance moms" , get a quite into her gardening and sniffing cocaine.