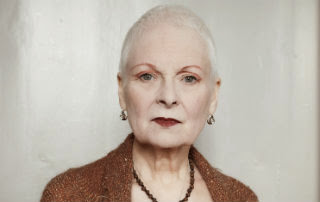 BEAU MONDE
VIVIENNE WESTWOOD
By
|
"Vivienne's story is woven with fabric and fashion as much as politics and social history". Vivienne Westwood, was born Vivienne Isabel Swire on 8 April 1941 is an fashion designer, Head of global Fashion brand and one of the most famous english women on the planet. Legend and icon of our age. Somebody called her "Coco Chanel of our times". 
Creator, she was bringing modern punk and new wave of fashion into the mainstream.
In 1972, Vivien Westwood with her boy friend McLaren, famous musician of "Sex pistols" band and his friend Patrick Casey opened a clothing shop called Let It Rock at 430 Kings Road in World's End, West London,which became famous as "SEX". It was their ability to synthesise clothing and music that shaped the 1970s UK punk scene, dominated by McLaren's band.
She was extremely interested in the punk fashion phenomenon of the 1970s, saying "I was messianic about punk, seeing if one could put a spoke in the system in some way". She was masterfully mixed elements of BDSM , like bicycle chains on outfit , spiked dog collars for accessoires , certainly mind-blowing and shocking make-up and hair with 17th- and 18th-century cloth-cutting principles and traditional elements of Scottish design.
In 2014  publishing company Picador reliased a book of the first personal memoir of designer. This event was collabotation between her and award-winning biographer Ian Kelly . Her words are received by readers:
"My duty is to understand. To understand the world. This is our exchange for the luck of being alive. From people who have lived before us we can rediscover different visions of the world thought art-this is the true meaning of culture-and by comparison, we form our own ideas of a world better than the one we  are in, the one that we've made a mess of. We can change our future. In the pursuit of ideas you will start to think,and that will change your life. And if you change your life,you change the world". VIVIENNE WESTWOOD, 2014
"It was Malcolm's idea that we needed to do a Paris show. It was early 1981,and we had got a French PA,Sylvie Grunbach, who was very good. This was my third collection.We had done the Pirates,the Savage,and this was the Buffalo collection. The official title was "Nostalgia of Mud", along with the stop we than had. The start of new Romanticism .That was me! We had done Buffaloes in Olympia and we decided to do a repeat of it in Paris. The reason being I'd had the experience by 1981-2 over and over and over again of seeing my thing copied and put on Paris catwalks. Punk stuff for instance got copied att all over Paris.
Text taken from "VIVIENNE WESTWOOD"  by Vivienne Westwood & Ian Kelly 2014.
"So we did a show in Paris, at Angelina's Cafe on the rue de Rivoli. Compared to now , of course , it was all done on shoestring, but it was much more exciting. And not just because it was new to me or I was younger. In those fashion magazines would see the show, and then the next day they would borrow your clothes and do a  shoot.Simple. It was all done in one go. French Vogue.  Italian Vogue. Even American Vogue used to do like that. Italian and American Vogue: they made me. It was so immediate. So exciting. You knew the effect you were having. Instant feedback. Of course the fashion world was smaller then too.
" I wasn't nervous . Not a bit. I 've never, ever been nervous. Not about the clothes. Ever. I say to myself," I love them and that's my best." The first Paris show , the Buffaloes collection in 1981, was a sensation. It was in all the newspapers, as well as the magazines. It was so exciting . But it took years and years before i felt that I was at all accepted in Paris like I am now or could really safely call myself a designer.  The people who always mentioned me were the Italians. I owe Italy a lot.  Italian  Vogue and American Vogue : they were wonderful about me , my two main supporters early on, because of what they saw in Paris. So, even early on, Paris began to change everything for me. Less punk. Less tabloid. I began to be taken seriously. But not because of Parisians or fashion press of France.  The first people I got the  real support from were the Italians, the Americans and especially the Japanese who came to Paris buying for boutiques. Because here's what was happening: it's funny, and I'll tell you this and I shouldn't , but John Galliano, at that time, for instance, he was such a fan of me and he copied the clothes very closely and I know this because he used to come into the shop.
And I went with a friend of mine in Paris to see the John's show, and she loved it, and rightly,and so did I, but that's because it was my show, from the year before. I just thought ,well,  fashion:it's really weird. But it. is. Weird. People wrote that I was unwearable, but then there it all  was the next season and the one after that, copied by others, sold for much more money, with much more backing. I don't know . And that upset me at the time, definitely I did. I knew my clothes were great , though, and that i had time on my side. But it was weird and it was undermining.
"So that's some of my Paris story. Where it all began".