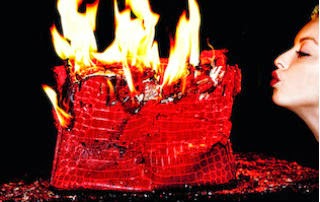 VIEWPOINT
Real ladies don't like fake
By
|
Photo taken from http://fashion.telegraph.co.uk
"Fakes kill creativity" , said Sidney Toledano, chairman of Christian Dior Couture.



New York Daily News reported us:" Dr. Tara Allmen, a prominent gynecologist who appears on television, says in her Manhattan Supreme Court suit that she bought the Hermes Jean Paul Gaultier Birkin for $3,425 in Tisha Collette's Southampton store. Allmen says in papers that after the learning that the bag was a fake, she tracked down the Collette clerk who sold her the bag and the clerk told her the shop owner told all sales employees to lie to customers that their luxury goods had been authenticated. Allmen is demanding a full refund on her bag plus $50,000 in punitive damages."
One more bomb report, Women's Wear Dealy provided precious few details on the crimes of the Hermes employees arrested, their involvement with the counterfeiters or their positions within the French luxury house. With Hermes employees involved (and according to the Daily Mail, actually running the operation) and company materials seemingly used, though, one can't help but wonder – what exactly makes an Hermes bag an Hermes bag?
The bags were manufactured in France and apparently disseminated through distribution channels in the US, Europe and Asia, with one branch of the ring's sales estimated to be worth $22 million alone".
On the basis of these materials, we can understand that an important place in the life of society is the possession owned Hermes bag or Rolex watches. Artificial creation of scarcity is directly supporting force counterfeit. In case my job,
I get twice a week order like this:
— "Please, get me Birkin bag, size is 45 sm made from emerald crocodile at the next week, urgently! "
— "Help to understand I bought this bag, but I guess it is fake!!"
— "Do you think it's okay if detail of case from my $35 000-Rolex remained in my hands?!"
The Birkin bag was invented by Hermès brand in 1984 and named in honour an actress and singer Jane Birkin. These bags are sold in a range of sizes. Each one may be made to order with different customer-chosen hides, color, and hardware fixtures. There are other individual options, such as diamond-encrusting. Every who can afford have opportunity to put on him name to wish list and wait a dream.
Situation was changed after 2010 years. Wish list was disappear..
Personally, I tried to find these bags in all boutiques in New York, Paris, Milan and Miami. My question is the same.
Me: "I'd like to buy a Birkin or Kelly model".
Salesperson answered me with compassionate smile : "No, today they are not for sale"
Me: "When I can come and buy this model?"
Salesperson has replied already with a deep sigh: "Maybe next week.. I don't know..!"
Sometimes the answers are varied: "inquire after fashion week", and the seller in the Milan boutique was so good that suggested: "Maybe I should give birth to you it?"
On the other hand, The French luxury goods industry launched an advertising campaign against "the scourge" of counterfeits, which it said costs French industries €6bn a year. The association includes some of the brands most affected by counterfeit goods, such as Chanel, Hermès, Louis Vuitton and Yves Saint Laurent. Patrick Thomas, chief executive of Hermès, said : "on some internet sites, 80 per cent of the Hermès products presented are fakes".
Recently, New York court awarded Hermès €100m in damages against 34 internet sites selling fake versions of its Kelly and Birkin bags. Ms Ponsolle des Portes said that more than 85 per cent of fakes were manufactured in China, but that Europeans bought the vast majority. "It's European tourists that buy counterfeits – not Chinese tourists," her conclusion.
In my opinion , critics exaggerate :"fakes industry say it supports criminal activities, from child labour to terrorism!" Replica's fashion is not new. Nineties brought on logo mania, the mass production of counterfeit goods ensued.
"Faking It: Originals, Copies and Counterfeits," the exhibition is held at the Fashion Institute of Technology's museum in New York, (explores the history of authorised and unauthorised copying in fashion.) This venue show how difficult it is to identify an inauthentic item. Museum visitors can also learn how to spot a fake, thanks to video interviews with Susan Scafidi, founder of Fordham University's Fashion Law Institute, and Valerie Salembier, the Authentics Foundation's chief executive officer. Salembier says that in the past two years a new class of "super-fakes" has emerged. But the golden rule still applies: "If the price is too good to be true, then you can be sure it's a fake."
By the way, Coco Chanel once said, "Fashion should slip out of your hands".