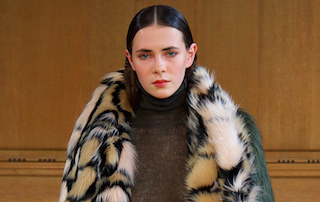 FASHION SHOWS
ALLUDE READY-TO-WEAR FALL WINTER 2015-2016 PARIS FASHION WEEK
By
|
Andrea Karg presented her autumn-winter collection for Allude house , 11 March in Paris. She named it Playing shapes. "I can't change the world, but I can make it a bit more pleasant."
As usual it was is a synthesis of craftsmanship and technology, emphasising the intensity of materials. Designer explained:  "The new collection re-interprets femininity in an original visual language, experimenting with materiality by processing cashmere in a multitude of ways to play with the silhouette. A key element to the collection is the volant – I specifically wanted to express the movement and flow of the cashmere through the motion of the wearer."
Need to say that ,main focus of designer sent to luxury cashmere. Juxtaposition of heavy and light texture is recognizable designer's vision on fashion. Compact fabrics provide density to the silhouettes, and structures are interrupted through contrasting materials.
The main fabrics of collection: felted cashmere,jacquard knits and patterned, fake fur;
The main colours of collection are: beige, rose, pale blue, lush dark green ,black,rusty red ,brown.
   "This collection is a statement of intent – don't succumb to the pressure and look beyond. Use your experience and live for the moment. Allude is about self-confidence – to feel the very best every day."