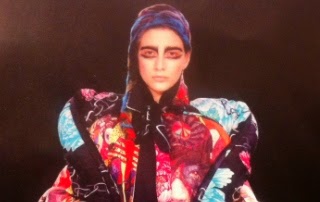 EXHIBITIONS
FASHION MIX PALAIS DE LA PORTE DORÉE
By
|
 The Musée national de l'histoire at the Palais de la Porte Dorée is held an exhibition Fashion Mix from 9 December till 31 May 2015 in Paris.
      Amongst personal routes and history of fashion, Fashion Mix devoted to story of immigration, those men and women, artisans, designers, is contributing to the reputation of Paris, the international capital of fashion. Fashion Mix is an exhibition in honor of the Russian designers creators, Armenian, Italian, Spanish, Japanese, Belgian who promote French fashion throughout the world. Charles Frederick Worth , Azzedine Alaïa, Mariano Fortuny , Issey Miyake and Yohji Yamamoto, Elsa Schiaparelli ,Martin Margiela, Cristobal Balenciaga, Robert Piguet, Paco Rabanne , Manish Arora, Raf Simons and so many designers and foreign artistic directors who are revolutionizing French fashion, enrich its history. Personal accounts, archive documents, photographs and works of art echo each other in a historical and thematic tour which recounts high points in French history since the 19th century.
The history of fashion and haute couture more specifically, is also the history of immigration. Some famous designers immediately spring to mind: Elsa Schiaparelli, Paco Rabanne, Kenzo, Azzedine Alaïa and many others. However, it is actually made up of the stories of over two hundred designers from abroad, each of which reflects in its own way an episode in the history of immigration, demonstrates that success did not always come easily for all of them when they arrived in France.
Moreover, the global influence of France as the fashion capital of the world owes a debt not just to the expertise of haute couture designers, but also to the talent of seamstresses and to all the arts and crafts trades associated with the luxury goods industry.  What a French label offers in branding terms is the expertise acquired from the rest of the world, which has enriched it. These designers are valuable examples of this and are not viewed in the least as victims or in a xenophobic light. Lastly, today fashion celebrates diversity in an inclusive vision whose conventions do not preclude individuality. Beginning from Worth to Fortuny, Schiaparelli to Balenciaga, Paco Rabanne to Issey Miyake, from Yohji Yamamoto to Azzedine Alaïa, all the designers who helped to shape the fashion idiom of each decade of the 20th century found fertile artistic soil for their talents in Paris. The concepts of "French know-how" and "made in France" are recognized and celebrated internationally in the field of fashion since the mid-nineteenth century. However, this French fashion is often designed by foreign designers. Driven by political or artistic reasons choice, attracted by the capital of culture and elegance but also by the country of freedoms, these foreign designers contribute to the reputation of haute couture and ready-to-wear french and, in Paris, the international capital of fashion. But fashion is also of specific skills. The exhibition evokes certain trades of the time particularly marked by immigration as the workshops of Russian embroidery in the 1920s or Armenian.
The exhibition presents a hundred iconic pieces mainly preserved at the Palais Galliera, Fashion Museum of the City of Paris: dresses, coats, hats, accessories .Individual migration routes and know-how are tracked through documents from private and public archives.