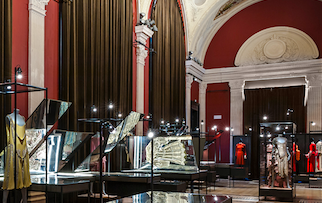 EXHIBITIONS
JEANNE LANVIN EXHIBITION PALAIS GALLIERA , PARIS
By
|
Alber Elbaz, artistic director of Maison Lanvin and the Palais Galliera invite you from 8 March to 10 August to an encounter with this great lady of Haute Couture, Jeanne Lanvin.
This first Paris exhibition devoted to Jeanne Lanvin (1867-1946) features over a hundred models from the amazing collections of the Palais Galliera and the Lanvin Heritage. This is oldest French fashion house still in business.
Jeanne Lanvin was an exceptional woman. She was born in a family from eleven children. At her sixteen she was apprenticed by Madame Felix, a Parisian modiste. Two years later, she sold her own collections, which then essentially characterise of hats, luxurious and very elegant. She moved to her final address on 22, rue du Faubourg St Honoré in 1893 year. Jeanne Lanvin married to an Italian which she divorced shortly after but made unique for the time, she retains her maiden name for her company. The birth of her daughter Marguerite in 1897 fuelled her entrepreneurism. Jeanne Lanvin was also very popular because created mother – daughter toilets. She was the first designer who invented Couture for small ladies. Marguerite was not only the best model, but even was the perfect brand ambassador of the House Lanvin. She was also indirectly causing of the beautiful logo of the House. The fashion designer of Paul Poiret, Paul Irbe, was inspired by a photo of 1907 year representing the mother and daughter preparing to participate of a ball. This pattern has used by the architect and decorator Armand Albert Rateau who made logo for Lanvin House. It was therefore logically, used this emblem for the most famous perfumes Lanvin — Arpege, later launched , in 1927.
Sustainability dresses marked wide skirt waist was a specialty of Jeanne Lanvin, as evidenced by this model, drawings scattered on the ground and that presented the seamstress. Famous for her style dresses and pittoresque coats recalling other times, Jeanne Lanvin breathed a romantic mode, while other designers like Madeline Vionnet, Coco Chanel, Alix Grès and Jean Patou opted for la verticalité. She opened her Haute Couture House just before World War I and attached at that time. She refused from innovations and confined himself to make minor changes to the very full skirt the 1915-1916 years. With the revival of the romantic costume theater, Yvonne Printemps was her favorite client. Jeanne Lanvin was not be satisfied by exercising her talent in high fashion for girls and ladies. In 1923, she launched Lanvin sport. After, in 1926 year she created men's fashion and home line.
She also opened shops in Deauville, Biarritz, Barcelona, Buenos Aires, Madrid, Cannes, Le Touque, San Paolo, London and New York. She stayed away from society events, remaining discreet and apart, listening only to her own ambitions and feelings. She was well-attuned to the beat of her time, she understood its needs and created a perfect response. She was thus able to impose her idea of fashion before fashion was even a concept, deploying different creative skills and diversifying her activities. Her vision and dedication have carried the House into second century. An unprecedented lifespan, made possible by the way in which the essence of Lanvin has been passed down, ensuring that the company today is exactly what Jeanne Lanvin herself would have made it.