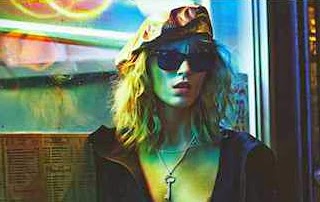 EXHIBITIONS
TIFFANY & CO. VU PAR VOGUE PARIS
By
|
Tiffany is a legend. This is Audrey Hepburn in little black dress and a five string of pearls, admiring its New Yorkwindow in the  morning in 1961 before the camera Blake Edwards. These are also photos of Vogue, sometimes less known but equally iconic, sublimating the creations of American jeweler with their voluptuous atmosphere. These images it, we offer the opportunity to discover an exceptional exhibition. "Tiffany & Co. seen by Vogue Paris" meets for the first time twenty prints published in the reference magazine of fashion and luxury. Signs by leading photographers, putting en scene of legendary pieces on the skin of Kate Moss, Daria Werbowy, Natasha Poly,
here is a foretaste selection of these images, to discover full complement of 3 to 26 April in rooms of the Tiffany & Co. store at 62 Avenue des Champs -Elysees. Welcome to the legend" editor French Vogue  Emmanuelle Alt invited to visit exposition.
Tiffany's story begins in 1837 in New York City.  In 1837, Charles Lewis Tiffany arrived in New York with vision of spectular beauty that went on to redefine glamour and style around the world. Over the years, Tiffany & Co. has introduced the world to diamonds of breathtaking brilliance and a marvelous selection of previously unknown colored gemstones.
Crowned with a white ribbon, the Tiffany Blue Box is an international symbol of style and sophistication. It makes hearts beat faster, and epitomize Tiffany's great heritage of elegance, exclusivity and flawless craftsmanship.
The world has been enthralled with the distinctive Tiffany Blue Box since the very beginning. It was Charles Lewis Tiffany who mandated that the coveted boxes could only be acquired with a Tiffany purchase. As reported by the New York Sun in 1906, "Tiffany has one thing in stock that you cannot buy of him for as much money as you may offer, he will only give it to you. And that is one of his boxes."
In 1851, Tiffany was the first American company to institute the 925/1000 sterling silver standard which was later adopted by the United States. This precious metal comprises Tiffany's hollowware, like this 1853 pitcher, and gleams today in chic jewelry designs. Since its founding, Tiffany has been at the forefront of the world's greatest design movements. Its Japanesque silver won Tiffany the highest honors at the 1878 Paris World Exposition and at the turn of the twentieth century, Louis Comfort Tiffany emerged as an Art Nouveau leader. From glamorous, geometric Art Deco pieces and bold cocktail-style creations to the nature-inspired works of Jean Schlumberger and Elsa Peretti, Tiffany has broken new ground time and again with exceptional designs that remain relevant today.
Jean Schlumberger, witty and exciting designer , was hired by Tiffany after tremendous job for French famous couturier Elsa Schiaparelli. He was created jewelry for her Parisian collections. Equally, she helped him to become the most acclaimed jewelry designer of his time. In 1956, Schlumberger joined Tiffany & Co. where his nature-inspired designs were quickly embraced by the world's most fashionable women including Elizabeth Taylor, legendary Vogue editor Diana Vreeland and Babe Paley. Elsa Peretti joined Tiffany in 1974, her organic, sensual forms revolutionized jewelry design and seduced the world.
"My jewelry is about a joy for life and a timeless beauty" said Paloma Picasso , next designer for Tiffany. Paloma Picasso's creations artfully combined European sophistication with exotic influences. Born in Paris to Pablo Picasso and Françoise Gilot, Paloma Picasso was a true artist in her own right, celebrated for a boldly original style defined by brilliant colored gemstones. She has started making jewelry as a teenager. Soon she was styling avant-garde theater productions and designing fashion jewelry for legendary couturier Yves Saint Laurent. In 1979, Picasso was invited by Tiffany design director John Loring to create a table setting for one of Tiffany's exhibitions. A year later, the designer's first exclusive collection of jewelry was introduced at Tiffany.
Tiffany's brilliant diamonds and lustrous pearls were the screen darlings of the Jazz Age. They adorned Hollywood's leading ladies—and nothing burned brighter in black and white. Even today, Tiffany jewels ignite the red carpet and silver screen with legendary style.