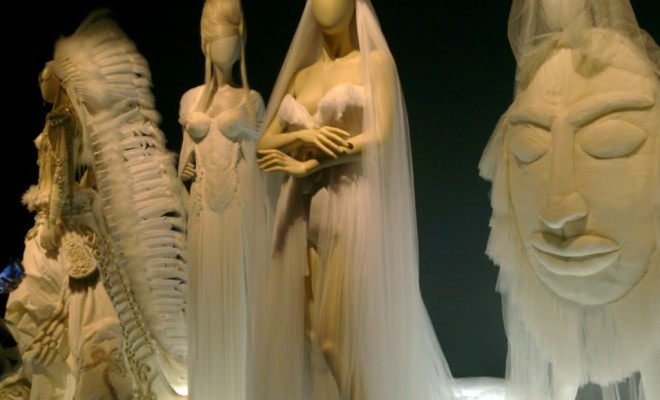 EXHIBITIONS
JEAN PAUL GAULTIER EXHIBITION GRAND PALAIS PARIS
Jean Paul Gaultier -ça, c'est Paris. Fashion icon,firstly, a fashion designer , his name is symbol of Paris, like a Eiffel Tower, baguette, champagne or Brigitte Bardot.
King of diversion, humor and transgression, Jean Paul Gaultier with corsets and legendary sense of humour was toured the World and from 1 of April to 3 of August is held an exhibition organized by the Montreal Museum of Fine Arts with the Réunion des musées nationaux – Grand Palais, together with Maison Jean Paul Gaultier, Paris. The Fashion World of Jean Paul Gaultier. From the Sidewalk to the Catwalk is a phenomenon that has wowed over a million visitors on international tour. Paris is the next stop after Montreal, Dallas, San Francisco, Madrid, Rotterdam, Stockholm, Brooklyn, London and Australia. This show is a high point in career of Jean Paul Gaultier.
At the beginning of his career Jean Paul sent turkeys for Christmas to the most influenced fashion editors. In this case, he took a name "enfant terrible de la mode". Maybe it was a great chance to be..or not to be;
Designer got support and help to sew his first collection from mother, grandmother and conceirge of house;
He has worked for Pierre Cardin, then he worked with Jacques Esterel at Jean Patou before launching his Maison;
For the first defile he has used canvas embroidery that he bought in parisian store Samaritaine and raffia table set as well;
In 1976 all invited journalists and fashion editors cancelled visit to other shows installed at the same time , in case the first defile of Jean Paul. We remember Jean Paul is only one;
6.Jean Paul has followed to him fashion colleagues: Yves Saint Laurent, Diane von Furstenberg, Sonia Rykiel, Giorgio Armani and he posed before Andy Warhol. One artist told about other : " Got Jean Paul Gaultier, because he made truly art!"
In 1984, conical breasts appeared for the first time in a parade at the Cirque d'hiver;
Martin Margiela and Nicolas Ghesquiere were assistants of Jean Paul. In additional, don't remember that he revealed Leticia Casta during casting for his defile of tatu;)
Even Madonna decided to do catwalk topless for his show. This is the photo went around the world;
Unfortunately ,at the beginning 90th when his companion Francis Menuge passed away Jean Paul seriously thought about if it's possible to continous fashion career , but show must go on. Could he do anything other than fashion?;
Perched on geisha style clogs, a man and a woman are mirrored in almost indentical coats, quilted satin rich and created by Jean Paul Gaultier for his feminine collection in 1994, "Le Grand Voyage". Nothing surprising in this since Gaultier made skirts for men of 1985 by launching brand in 1978, he dreamed of a "global" costume, both old and new, as are London's punks. Sexual ambiguity is a recurrent theme in his work. While his men wear skirts and even the Turus, women walk the catwalk of a not ensure, smoking a pipe in strikeouts costumes. Influence by the extreme – east and the emergence of gays in the 1970s (this year it, his clothes men were using references a macho bodybuilders and muscle sailors), Gaultier has launched a challenge full of humor and eclecticism has french establishment.
Jean Paul was the first couturier who arised a theme of sex-same mariage in 2005 year in his collection "Le Mariage homosexuel". This defile showed by him before this type of marriage to become as a legal. It was almost a political act;)
Maybe Jean Paul has competitor..? Probably, his name is Thierry Mugler . He moved up Berlin to see new shows of the mysterious bionic couturier;
Designer created a sketches for Fifths element , Jean Luc Bessoin's film. He made this job 5 years before film was finalized .Need to say, he drew up all in advance to see a script;)
In 1990 he composed all costumes for legendary tour of Madonna "Blonde Ambition Tour" and also Yvette Horner's performance. It was a big step into pop- culture;
40 million of flacons Classique was sold. It was his debut in parfum industry;
16."Eurotrash" (1993-2007) magazine-format programme in English hosted by Jean Paul Gaultier and Antoine de Caunes was named by the Sun as " the programme the most vulgarity on British TV for all its story";
Nicole Kidman ,also Marion Cotillard at 80th Oscar anniversary ( La vie en rose) received Oscar in his dresses. In additional, in 2008 Carla Bruni Sarkozy married in dress from Hermes, where he has been creative director pret-a- porte and Haute Couture lines from 2003-2010;
At the last january Jean Paul was inspired 8-hours mariage ceremony of Liz Taylor for his mariage collection;
During his last defile was bottling around the Grand Rex. In this case that area became a padlock traffic, some guests never reach the parade, including life- long friend Antoine de Caunes, stuck outside;
In 2014 ,after the last pret-a-porte defile 42 employment were fired by him. However, they were unfreigned people of maestro and made a little picket with slogan "Jean Paul Emploi";
Share this post: on Twitter on Facebook on Google+