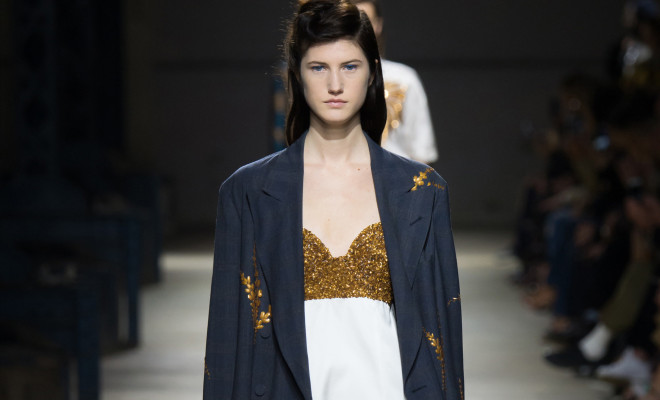 FASHION SHOWS
DRIES VAN NOTTEN READY-TO-WEAR SPRING-SUMMER 2016, FASHION WEEK PARIS
By
|
One of the most successful members of the renowned Antwerp Six, Dries Van Noten presented of his collection spring-summer 2016, 30 of September in Paris. Dries van Noten is a designer who knows his way around a print. He is also pretty talented when it comes to his color combinations and judicious use of embellishments. This season he combined all of those skills, which he has honed over the past 29 years in the fashion business, and take them right to the razor's edge of what is taboo. "For me taboo has a lot of references but they are things that you normally can't do. It's just on the verge of too much" said the designer after the show.
Color and pattern are basis of Van Noten's collection,ravenously each season to develop new ways to experience both. This time, he set a two-color limit per pattern, the graphic precision in variations from shocking to muted, with an emphasis on high-sheen brocades and jacquards. And if some veered toward upholstery-ville, Van Noten handled their heft expertly, whether in mannish jackets and coats or more surprisingly, in a bustier cocktail dress in gold and white.
The cacophony of colors, which saw hot pink butt up against navy, yellow war with purple, and blue confront gold, was dramatically vivacious all on its on. However, Van Noten didn't stop there. He added strong sequined organic patterns and graphic geometric prints into the mix for an effect that was as flashy as it was fun. "Eccentric can be a sad old lady with twenty-five cats. A flamboyant lady is the lady who lives. She wears and she dares and she has fun" said Van Noten. "A flamboyant woman. She dares, she wears" Dries Van Noten observed backstage.