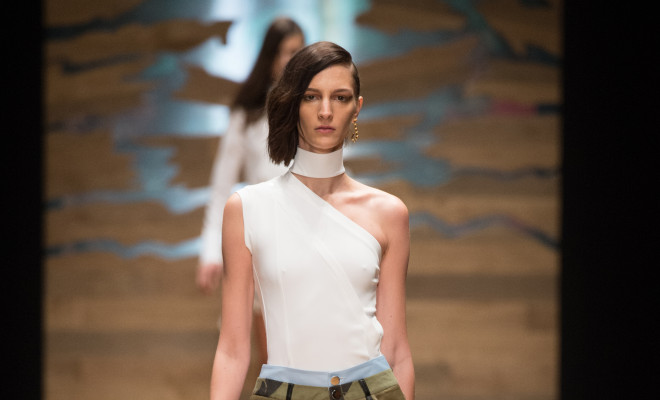 FASHION SHOWS
GUY LAROCHE READY-TO-WEAR SPRING-SUMMER 2016, PARIS FASHION WEEK
By
|
American designer Adam Andraschik presented his second collection, spring-summer 2016, for famous French house Guy Laroche. There is contrast a tropical aesthetic with an air of dystopia. I remind that DNA of house is a combination of feminine and masculine. Looks like that designer is still looking for his full footing between past and present. The collection confronts playful winks to the "beach boys era"– such as embroideries and appliqués of palm trees and sunsets — juxtaposed with a bold, military rigor citing the early 21st century. The house's classics – trench coats, biker jackets and day-dresses— are deconstructed and rethought. Devoured and lacerated silks, asymmetrical lengths and industrial detailing put forward an urban, deeply contemporary re-reading of the house's timeless and ageless elegance.
Designer consider that this collection also explores the modern woman's wardrobe as Monsieur Laroche saw it: separates that are modular and adaptable to a busy daily existence with multiple lives. This philosophy also runs through the accessories – a clutch that wraps around the wrist, a unique earring by Mouton Collet and loafers: those too follow an active yet refined sense of style, where each piece can be adapted to every hour of the day.
"Guy Laroche designed for the time period he lived in, and I feel today's modernity is a little bit off, especially in Paris. People are drawn to the darker side. And it's interesting how everyone just want to channel the street, but doesn't want to channel the dream" Adam Andraschik explained his vision of  collection "Trouble in Paradise".