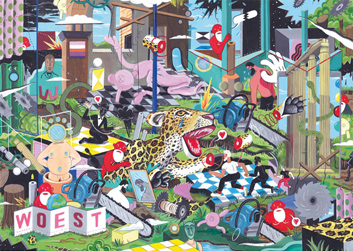 FASHION SHOWS
WALTER VAN BEIRENDONCK MEN'S FASHION FALL WINTER 2016-2017 PARIS FASHION WEEK
By
|
Another belgian designer Walter Van Beirendonck presented his fall-winter collection 2016-2017, 20 of January in Paris. He named is "WOEST" ( translate from Dutch is "furious", "wild"). "WOEST" jewels designed by Walter for CHP..?". His continous statements about the fashion-world,earth,nature, contemporary life and society are collected in prints and slogans. Always in a complete unconventional context. Walter Van Beirendonck is considered to be one of the main trend-setters. His designs are very recognisable by either strong graphics or innovating cuts and unexpected colour combinations .
Famous make-up artist Inge Grognard which  has been working with Walter Van Beirendonck since he was a student and for his A/W16 menswear collection painted a series of graphic illustrations upon the models' faces: black shadows of the tiny charms that hung from their jewellery. She explained designer's attitude: "Walter was really angry with everything that is happening in the world, but also he didn't want to make an aggressive collection. The only thing that he really wanted to use to show his anger was those little bracelets and the charms on them." Here, what designer said about this collection after show : "I was combining very sweet subjects and very aggressive subjects. So you had small rabbits and teddy bears, but then there were chainsaws and strip saws cutting through them."
NB! Also, this collection was made in honour of David Bowie.