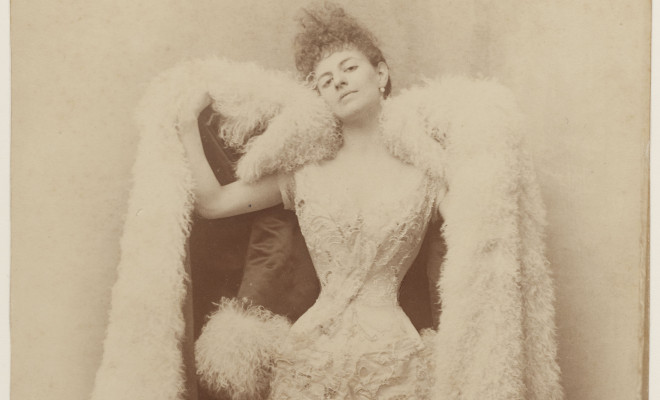 EXHIBITIONS
LA MODE RETROUVEE PALAIS GALLIERA, PARIS
By
|
The Palais Galliera presented the fabulous wardrobe of Countess Greffulhe, Elisabeth de Caraman-Chimay at the exhibition (Rediscovered Fashion) from 7 of November to 20 of March in Paris. The exposition culls fashion treasures from the museum's archives, including some 50 dresses from its collection bearing such labels as Worth, Fortuny, Babani, Lanvin and Nina Ricci. The fashions are supplemented with films, photographs and music tracks plus papers describing her trousseau, identification card and even last will and testament, also madame, worker of museum will be accompany with very interesting comments.
Countess Greffulhe was born Princess Mary, Josephine, Anatole, Louise Elisabeth de Caraman-Chimay 11 of JulyJuly 1860 in Paris. Her father is the 18th Prince of Chimay and her mother was born Marie Joséphine de Montesquiou-Fezensac. She received a refined cultural education. The countess became particularly influential and occupied an outstanding position wordly after her marriage to the extremely wealthy Count Henry Greffulhe, raising funds, producing and promoting operas, sponsoring science and even dipping into politic. It is precisely for this reason that history will forget in the cataloging rather quickly to the women's department of the world brainless. They forget that it has completed a number of extraordinary things, for the arts, especially music, and science: this friend of Rodin and Marie Curie was a fund raiser before the hour, raising funds to organize shows, encourage basic research. Countess Greffulhe considered one of the most elegant ladies of his time, alongside the artists in vogue. Marcel Proust was inspired by the countess for her character of the Duchess of Guermantes.
Countess Greffulhe knew the whole earth, all royalty and the elite of Europe, as well as luminaries of politics. She was a friend of Georges Clemenceau, Blum who called her "the Oracle", Aristide Briand, Joseph Caillaux, and many others. She handed Wagner to honor, sponsored Faure, supported the Russian Ballet, promoted the work of Edouard Branly, found funding for Radium Institute. She had a genius for public relations, the gift to bring together the right people at the right time. By creating the company of the great musical auditions, she made the connection between musicians and socialites, some of which, with vast fortunes, could finance the concerts and fill theaters. All Paris dreamed of being received as a mythical mansion in the Rue d'Astorg, in the eighth arrondissement, nicknamed "the Vatican".